WE HAVE FORMED THIS CLUB AS THERE WAS NO FLYING CLUB IN THE BURNETT WHERE WE COULD MEET OTHER PILOTS AND ENTHUSIASTS TO SHARE OUR PASSION OF FLYING.WE HAVE MEMBERS FROM THE AGE OF 16-90, ALL HAVE SOME GREAT STORIES TO SHARE
PH 074168 6248 or Mobile 0490069550 ( fly in only ) *Please check cameras on the weather site for fog, cloud or wet conditions

THE BURNETT FLYERS INC IS A NOT FOR PROFIT RAA AFFILIATED CLUB AND WE WELCOME ALL FLYERS TO ANGELFIELD. THE CLUB LEASES AND OPERATES ANGELFIELD AS A COMMUNITY SERVICE. WE ARE A ZERO INCIDENT AIRFIELD AND IN THE INTEREST OF EVERYONE'S SAFETY ASK ALL WHO VISIT US TO OBSERVE THE FOLLOWING:
Welcome to Angelfield(Murgon) Airfield
1. You use this airfield, buildings & facilities etc. at your own risk.
2. Prior permission is required – Tel 07 4168 6248 Email: burnettflyers@yahoo.com.au.
3. You and your aircraft shall comply with all CASA and RAA Regulations. CAR 92(1) Use of Aerodromes is particularly important as it is up to you to assess whether landing and taking off from this airfield is suited to your aircraft, weather conditions, loading, your ability and experience as a pilot etc.
4. Use of radio is mandatory for this airfield. Please make an effort to make correct calls and keep the chat to a minimum. Frequency is CTAF 126.7
5. Left hand circuits apply to this airfield.
6. No commercial activities are permitted without prior club approval.
7. Camping is by prior authorization only see camping and RV conditions
PLEASE NOTE – Changes to fly in dates to Angelfield for 2018
Breakfast Fly ins to Angelfield on the second Saturday will be –
OCTOBER 13th
DECEMBER 8th

Please share this with all your flying enthusiasts
Any queries please phone 07 4168 6248
PLEASE NOTE that 4 cameras have been installed at Angelfield and gives a live photo every half an hour on the four quadrants. The weather station gives current information. Always check the time stamps on the data to vervify currency.

—————————————————————————————————————————————
Will and Fiona have sponsored our weather station which is up and running to give you a detailed weather report on weather conditions at Angelfield, Murgon – click on 'Angelfield Weather' icon which is on the top left side
Will's business is 'Precise Engine Rebuilders' and they are located at Southport, phone (07) 5532 7630
Will has rebuilt his Subaru engine which is his power plant in his Zenith
August fly in had the most perfect weather for a good roll up of planes, take a few minutes to view the slider below from this busy fly in
————————————————————————————————–
JUNE Breakfast Fly in was a perfect day for flying and fly in they did! Just a taste of what flew into Angelfield on the day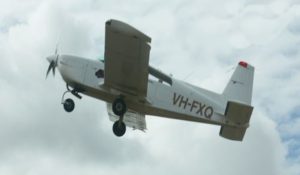 —————————————————————————————————————————————
The 2018 April flyin turned out to be another successful day, with the weather holding off in most areas. As usual the planes arrived in many different shapes and forms for all to enjoy. There is always something different to cast your eager eyes over. Thanks again to all who helped on the day, and those who also helped clean up on the Friday before, with many hands it made it so much easier for most of us. See you all at another great fly in.
June Breakfast fly in 2017
This month saw many little jobs completed at Angelfield. The barrel stove has been a winner and the new stainless work bench is now finished thanks to Graham, Ron, Ralph, Paul & Charlie. it was a task that took some time but well worth it and was well used on Saturday. It is a great addition to the OP's Centre.
Another busy fly in with one pilot coming all the way from Mackey. Thanks everyone for coming and hope to see you again in the near future.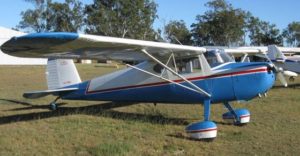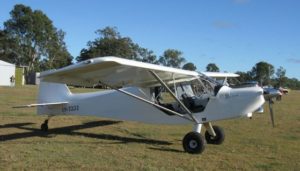 —————————————————————————————————————————————
Gayndah Orange Festival Breakfast fly in a day to remember
About 50 planes or more flew in for the Orange Festival, many came early to take advantage of our breakfast that was served next to the Gayndah Emergency Centre. A team from Burnett Flyers worked like clock work. It was busy there for a couple of hours and local Councilor John Zahl ferried flyers to and from the Orange Festival and Gayndah Historic Museum driving a courtesy bus supplied by Ken from the Golden Orange Hotel/Motel. A big thanks to all those involved to make this event happen for all to enjoy.
=========================
Angelfield April fly in was a bit on the windy side with quite a few aircraft flying in for a well earned breakfast.
It was a special day as Werner turned 89 and Helena put on a small celebration for him.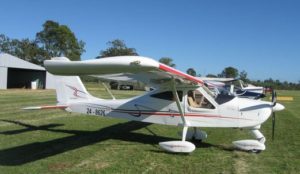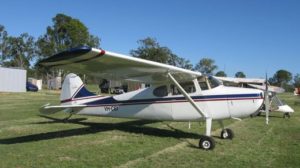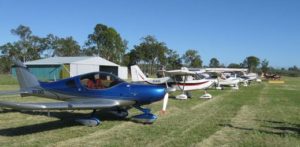 —————————————————————————————————————————————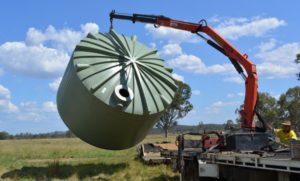 ————————————————————————————————————————————–
The 2017 February fly in was going to be a scorcher and the planes rolled in early and kept many of us very busy, especially Charlie who worked tirelessly all morning on the BBQ. Thanks again for all those who donated their time to make this special day happen.

————————————————————————————————————————————————————————————————-
Jimbour Trip 2016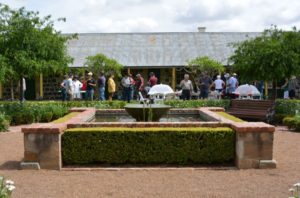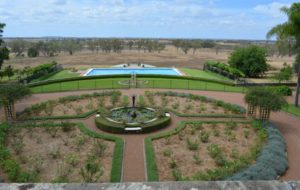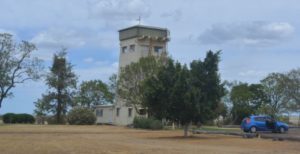 ———————————————————————————————————————————————————————
Our Safety Seminar was held in early November and about 20 people attended. There was a lot of goodies to give away from CASA and RAA and anyone who comes along to the Brekkie Fly-ins can obtain some valuable material left over from the seminar, all free.
————————————————————————————————————————————–
Gayndah Aerodrome is open and the strip is a dream to land on, the North Burnett Regional Council have done a tremendous job on rebuilding the runway, taxiway and new emergency facility. The new Fuel facility is in full operation and has Avgas and Jet fuel available. Call in and check out their top class runway.
—————————————————————————————————————————————
WE HAVE FORMED THIS CLUB AS THERE WAS NO FLYING CLUB IN THE BURNETT WHERE WE COULD MEET OTHER PILOTS AND ENTHUSIASTS TO SHARE OUR PASSION OF FLYING.WE HAVE MEMBERS FROM THE AGE OF 16-90, ALL HAVE SOME GREAT STORIES TO SHARE.
PH 074168 6248 or Mobile 0490069550 ( fly in only )
ANGELFIELD is a private airfield and permission to use it is necessary, anyone who chooses to do so uses the airfield AT THEIR OWN RISK and neither the owner or the Burnett Flyers Inc are responsible or liable. Users are required to carry their own insurance. We do not certify the condition of the airfield or surface. User onus applies in all situations.
……………………………]
MOBILE PHONE NUMBER 0490069550 FOR ANY CONCERNED PILOTS ABOUT WEATHER CONDITIONS AT ANGELFIELD PLEASE RING FRIDAY AFTER 9AM OR SATURDAY MORNING, THIS NUMBER IS ONLY USED AT THE AIRFIELD AND WE CAN NOT RETURN CALLS .
Call on 126.700 if you want information on ground conditions
—————————————————————————————————————————————Thanks to all who supported the Heartland Festival. We all enjoyed the country hospitality where we met many friendly faces at the Heartland market day held at the showgrounds where an amazing array of produce and products offered by many locals of the Wide Bay/North Burnett district. Others enjoyed a wine, cheese and art night at the Gayndah Art Gallery on Friday night. . Thank you Gayndah for your hospitality. Thanks to the Big Orange Motel owner for being our taxi guide and driving us over to visit the Gayndah Railway Station where we had the restorer show us several First Class Heritage Railway Dining cars. It was great to see a good roll up of aircraft at the Gayndah Aerodrome, looking forward to revisiting this lovely town soon.
—————————————————————————————————————————————
A GOOD ROLL UP OF BEAUTIFUL AIRCRAFT FOR THE AUGUST 2016 FLY IN BREKKIE – AND WHY NOT – IT WAS A GORGEOUS DAY TO FLY!
—————————————————————————————————————————————
GAYNDAH REOPENING OF REBUILD AIRFIELD
—————————————————————————————————————————————